European Master in System Dynamics
Home
»
European Master in System Dynamics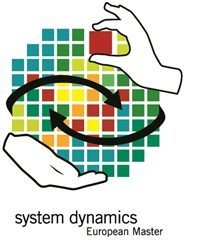 The European Master's Programme in System Dynamics has been specifically designed for students who are interested in learning how to initiate strategic change in organisations. Organisations are continuously confronted with the need for improvement in strategy development, policy design and decision making.
Get ready for a career in analysing complex dynamic systems, designing robust policies, helping decision makers make better decisions and initiating strategic change in organizations. If you want to solve real world problems in an international setting, EMSD is the programme for you.
A Unique Programme
The European master programme in System Dynamics (EMSD) builds on the strengths of four leading universities: the University of Bergen (Norway), NOVA University Lisbon (Portugal), the University of Palermo (Italy) and Radboud University (the Netherlands). The programme is specifically designed for students who are interested in learning how to initiate strategic change in organisations through the use of computer simulation models. EMSD is the first international master programme in System Dynamics in Europe. Our goal is to teach you everything that you need for starting an international career in strategic modeling with System Dynamics. After you have finished our master programme, you will know how to build a System Dynamics model, how to apply it to a variety of real-life problems and how to facilitate the model building process with the client. You will be able to help clients to unravel the complex issues they are experiencing, to provide sound solutions and build commitment towards an action plan. No other programme in System Dynamics in the world offers you this combination of model building and group facilitation skills in a dynamic international setting.
International Experience
During the programme, you will stay at three of the four different partner universities for a whole semester. Starting in Bergen (Norway), then either in Lisbon (Portugal) or Palermo (Italy), and then finally in Radboud, Nijmegen (The Netherlands).The two-year EMSD programme builds on the strengths of the universities involved: you will start with learning the System Dynamics model building in Bergen (30 ECTS); on to the application of System Dynamics in either Sustainability Issues in Lisbon or Management, Planning and Control in Palermo (30 ECTS) and finish by building your understanding and skills on Organisational Consultation and Group in Nijmegen (30 ECTS). You will finish our programme in a university of your choice by conducting an original research project present in a full-fledged master thesis (30 ECTS).
Living and learning across different campuses and cultures will be an enriching experience on both the academic and personal level that will help you develop the intercultural and personal skills that are needed for starting your international career. After our two-year programme you will have built up a network of international friends and colleagues that will kick-start your career.
Excellent Programme
The European Master in System Dynamics is awarded the highest scores in the EU evaluation in 2011, when we received approval of the final report of the Curriculum Development Project.
Our students are top of the notch in their field of practice. To illustrate this, below a picture of our students and teaching staff at the ISDC 2017 in Boston. Henry (2nd from left) and Connor (3rd from the left in the back), were recipients of the runner up Dana Meadows Award and winner of the Barry Richmond Award, respectively.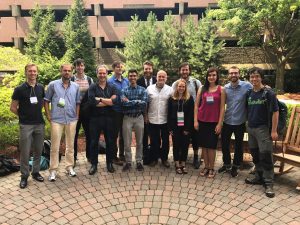 Career Perspectives
EMSD will provide you with numerous skills that will enable you to develop the flexibility required to be successful within European and global organizations, whether it be major consultancy firms, strategic planning departments of larger corporations, public administrations or NGOs. 75 % of graduated EMSD students found a job within one month after graduation. After half a year, all of the graduated EMSD students were employed. EMSD students find employment in the working fields of research, energy, consulting, logistics or government, automotive or jade production. Former EMSD students are currently employed at such renowned institutions as PricewaterhouseCoopers, UMG Myanmar Co. , the Ministry of Business, Innovation and Employment in New Zealand or the Norwegian Institute of International Affairs. An EMSD alumnus in the Netherlands helped to build the corona dashboard, allowing the Dutch government to track crucial indicators of the pandemic over time and formulate action plans.